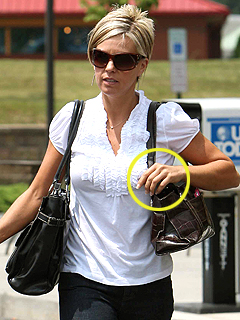 Kate Gosselin is showing her first steps towards moving on. A photo (to the left) was taken of Kate on July 24th during a daily coffee run, but without one familiarity: she's not wearing her wedding band. As of last month, Kate told
People
that the removal of her ring was something that she wasn't ready for, mainly for the sake of her kids.
While Jon's mingling with women in Saint-Tropez and New York, Kate's indulging much her time with the kids. In all fairness, Jon and Kate did agree to raise the children, separately, in their Wernersville's home, but have found separate living arrangements in New York (for Jon) and elsewhere in Pennsylvania (for Kate).
According to People.com, Kate's premiering a happier look, giving smiles and waves to desperate onlookers.
**Note(s):
***1)
http://www.people.com/people/article/0,,20293729,00.html