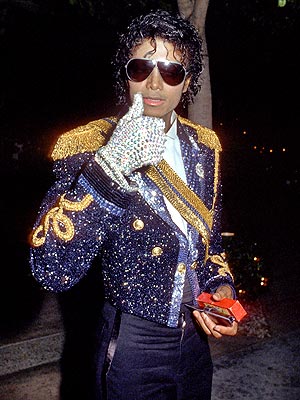 A Michael Jackson public memorial service has been set and will take place on Tuesday, July 7, at the Staples Center in Los Angeles, according to multiple media outlets. The memorial honoring the 50-year-old pop star will unfold at the 20,000-capacity arena after the holiday weekend, nearly two weeks after Jackson died after suffering cardiac arrest at his rented home in Los Angeles on June 25.
The arena is also the venue where Jackson was rehearsing for his 50-show "This is It" concerts, which were originally slated to kick off at London's O2 Arena on July 13. He rehearsed at the venue just hours before his death.
Randy Philips, president and CEO of AEG, which runs the facility, told KNBC that the service, which will be open to the public, will begin at 10 a.m. Arrivals are set to begin at 8 a.m.
According to Philips, the overflow crowd will be accommodated at Nokia Plaza outside the venue, where widescreen TVs will broadcast the proceedings inside.
"Details are still to be finalized when I meet with the Jackson family this afternoon," Philips said. "Everything is in preliminary stages except the place and time."
Representatives for the Jackson Family have yet to confirm the arrangements and had not responded to inquiries made by MTV News at press time.
On Thursday morning (July 2), preparations for the event were under way. Chick Hearn Court, the street that runs in front of the Staples Center, had been closed down, and several police cars and television trucks were parked in front of the venue.
On Wednesday, in a prepared statement, the Jackson Family squelched reports that memorial and funeral services for the King of Pop would be held at his Neverland Valley Ranch, which was Jackson's home for many years.
"Contrary to previous news reports, the Jackson family is officially stating that there will be no public or private viewing at Neverland," the statement reads. "Plans are underway regarding a public memorial for Michael Jackson, and we will announce those plans shortly." Details of Jackson's will were revealed on Wednesday, but the 2002 document appeared to make no provisions for his burial or a memorial service.
Jackson's funeral is expected to draw thousands of fans from all over the world.
(Source:
http://www.mtv.com/news/articles/1615227/20090702/jackson_michael.jhtml#)