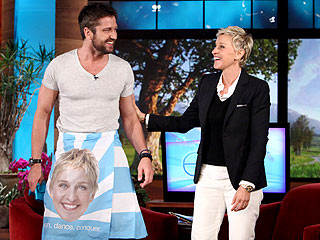 After learning that Gerard Butler
goes commando
on occasion, Ellen DeGeneres presented the actor with a pair of self-emblazoned underwear and matching kilt on her show (said via
People
, March 24).
Before introducing the "gifts" to Butler, DeGeneres suggested:
I am on a quest for World Domination and
[you are]
wearing a kilt and if it had something to do with me, that would be wonderful. Now, sometimes you don't wear underwear under things like that, right
?
Butler was happy to receive
the bottoms
and paraded the ensemble onstage for the audience to see.