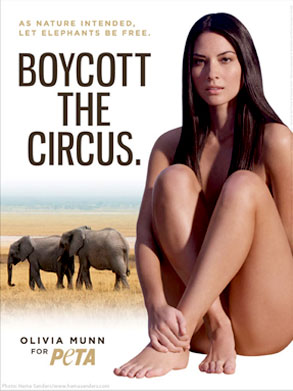 Using her sex appeal
this time
for a moral/ethical cause, Olivia Munn poses nude in a new
PETA ad against using elephants
in circuses (said via
JustJared
, April 27).
The G4 and "Iron Man 2" star sits naked beside a bold statement that reads "As Nature Intended. Let Elephants Be Free. Boycott The Circus." The backdrop is a safari of 2 elephants roaming without bother.
In reference to her work with PETA, Munn states:
When you look at something like the circus...when you go right behind that door and [the animals are] in these crates all day long and then they're getting shocked and beat just so they can get up and dance around on a ball. It was just so sickening.JustJared
state
s
that the ad sits at Wilshire Blvd. and Highland Ave., a cross-intersection between Downtown Los Angeles and Santa Monica---a site exemplified for attracting conversation.