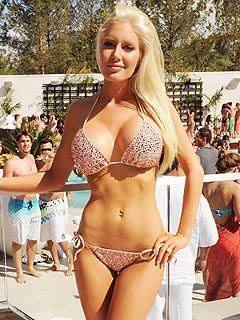 In a figure that only Barbie could obtain, Heidi Montag sports her hugely curvaceous body as host of the Liquid pool opening in Las Vegas Saturday (said via
People
, April 12). The event was held at the Aria Hotel Casino, by which Montag thought it a "great" arena to show off her new bikini body.
Nervous? "Not at all," said the reality star. "I've been working out really hard and I've been through a lot so I'm very ready for this moment."
Montag's DDD-sized breasts, supremely thin waist and "revised" nose are 3 of 10 surgical procedures done on the star in
one sitting
, and the starlet plans on going back for more! She also reportedly had a "back scoop," but is not quite sure of what it means (for her or her body).
A complete list of Montag's November plastic surgeries is available via a March 2010 issue of "People Magazine" and
HuffingtonPost.com
.